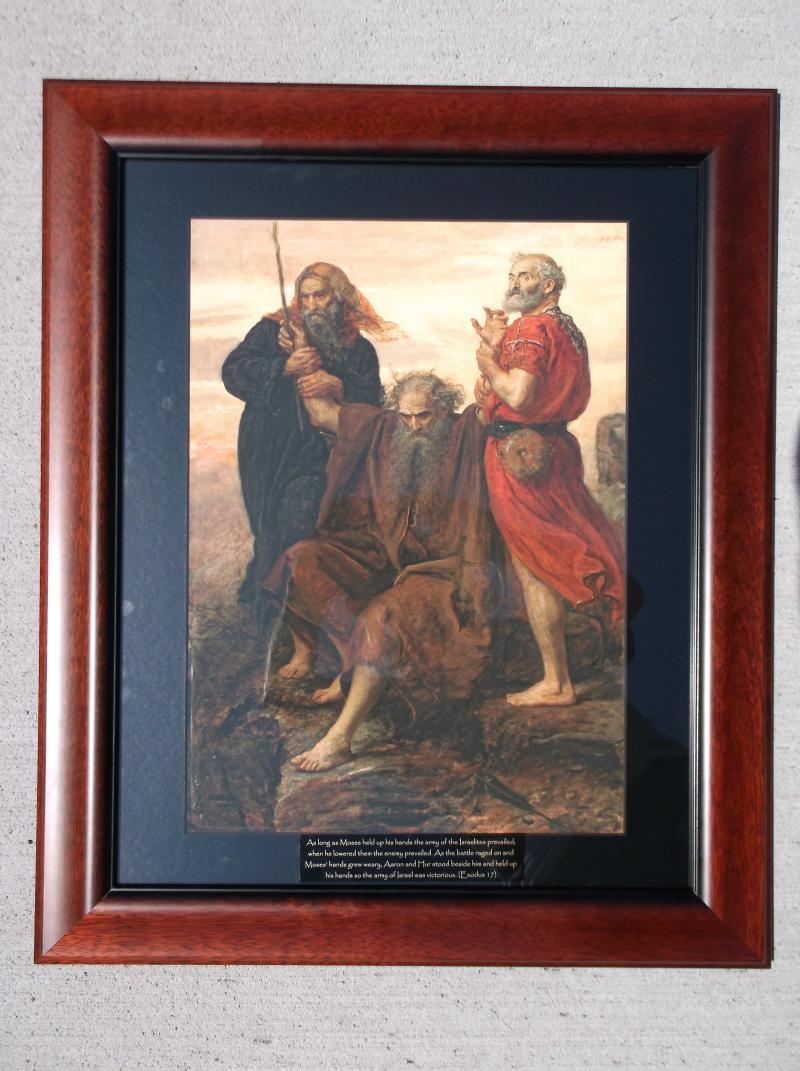 Back when I was 23 years old, I was in Manhattan, Kansas at the public library and I saw a book of paintings. As I was flipping through the pages, I immediately focused in on a painting of Moses with his arms being held up by two men. I can't recall if I knew (or remembered) the biblical story at that moment, but if not, I soon learned of the story in Exodus 17:8-13.
I thought the picture was amazing – powerful and colorful, impressive in every way, though the image above just doesn't reflect that as well as it does if it is in front of you. Anyway, that was in 1976. Although I never forgot the picture, I also was no longer in Manhattan and unable to figure out what the picture was. It just remained a memory for over two decades. In those days (pre internet) it was like trying to find a needle in a haystack, had I even tried. If the internet was invented for only one reason, it was so that I could find this picture. Eventually, I did.
I discovered the picture was in a museum in Manchester, England. I contacted them and they sent me an 8x10 black and white. For several years, I had it in a frame, but I was never satisfied. I remembered the colors being striking and B&W just didn't cut it. Eventually, in 2005, I contacted the museum and ordered a 12x16 color print. When I got it, I found a great frame and took them both to a frame shop to have the mat produced and to have the whole thing put together for a final 16x20 picture. I hung it in my study for two years before I decided it needed to be seen by more than just me.
In 2007, I took it to the pastor of my church (Roger, Advent Lutheran, Olathe, Kansas) and offered to donate it. He appreciated the picture and since then, it has hung in the library at the church where it is to this day.
Once I realized I didn't have long to live, I decided that I wanted to give away more of these pictures. I ordered five more copies of Victory O Lord and had plaques made. I bought five more frames and took them all to the same frame shop. They put them together and I had what I considered to be five masterpieces.
Obviously, beauty is in the eye of the beholder and I can't expect anyone else to feel the exact same way about a picture. But, for me, it is the best religious painting ever created. To see it close up with the blazing colors is really special.
So, I sent out a few emails to various local churches – Catholic and Lutheran. I received back requests for the picture from one Lutheran church and two Catholic churches. I donated the pictures to those three churches along with my own. That left me with two pictures.
I decided I would like to have as much visibility as possible, so I contacted Rockhurst University in Kansas City and they were excited to get a copy. I then contacted the Jewish Community Center in Overland Park, Kansas. They were also very excited about it.
The plaque on the front at the bottom reads: "As long as Moses held up his hands the army of the Israelites prevailed; when he lowered them the enemy prevailed. As the battle raged on and Moses' hands grew weary, Aaron and Hur stood beside him and held up his hands so the army of Israel was victorious. (Exodus 17)


There is another plaque on the back that reads: Victory O Lord, John Everett Millais, 1871, Manchester Art Gallery, England, Donated by Martin Manley 2013. Of course, the plaque at my own church reads… Donated by Martin Manley 2007.
I'm not sure what value there is of this picture in a church school or library. I can only say that if anyone develops an appreciation for it and if it in any way deepens their faith, then it was worth the time, effort and money. I've never seen this picture anywhere else or even referred to by anyone, so I feel it remains mostly unknown. I have no idea why that would be the case except that it is from the Old Testament – and a good deal of modern-day Christianity barely acknowledges the OT except for Genesis and Psalms.
If you google Victory O Lord, you will see numerous references to it, but they are all in context of who painted it and when. There just is no reference to who it inspired. At least now, there is one place on the web of someone who found it to be magnificent!
Where the six copies of the painting are on display.
St. Michael of the Archangel (Catholic)
Rockhurst University (Catholic)
Jewish Community Center (Jewish)