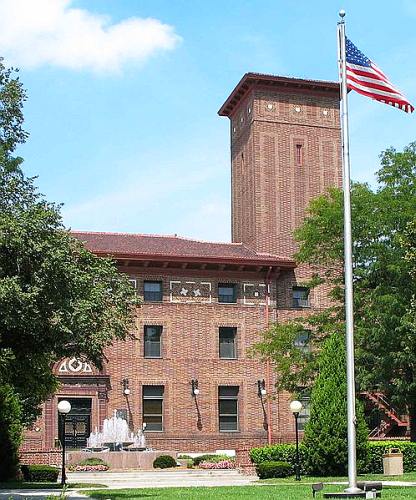 I spent most of my adult life working for myself or with partners, but after we sold off what we had left, I opted to work for the Kansas City Star. My job was in dealing with sports statistics. Having written three books on sports stats and numerous articles, it was a natural fit for what I figured would be the last 10 years of my life. I didn't quite make it. I left the Star after seven years and left the world after nine. But... close enough.
I abruptly walked away from The Star in early 2012. When I did, there was a lot of speculation as to what happened. I set the record straight over a year ago on my sports blog SportsInReview.com. But, for this record, I want to reiterate a few things. Besides, a year ago in my SIR post, I did not include anything from the letter of recommendation that I received from the paper's Editor - Mike Fanin.

My last day of work at The Star was February 6th of 2012. I wrote my last article on my blog, Upon Further Review, later that night (early morning) and I began it with…
"After 3.3 years, almost 2,000 articles and at least one story every day for 653 days in a row, this may be my last post on UFR. If so, you'll hear from me in the future and I'll be happy to spell it out…"
I survived approximately nine lay-offs at The Star because I was a workaholic. I never missed a day of work in all the years I was with the company. I rarely even took my vacation. I got 24 days a year and in the last two years, I took seven of 48 days. Company policy was not to pay for days not taken which I fully understood, so I just lost 41 days. I never took breaks, never stopped to eat during a shift, worked my butt off pretty much every minute I was there because… I just wanted to work.
And, that's not all. I was solely responsible for Upon Further Review (the name of the blog at that time). I posted an average of 1.5 stories per day. Every single one of them conceived of, researched by, written by, edited by and posted by … me. I didn't ask for, nor did I receive, help. In fact, I posted at least one story for 653 consecutive days from late April, 2010 until February 6, 2012 and almost every single day before that - despite working full time.
Almost all the work on the blog was from midnight to 6AM after my shift at work. And, on my two days off a week, I worked numerous hours on the blog. Basically, I lived, ate, drank and slept (when I had time) Kansas City sports, Kansas City Star and Upon Further Review. What life?
At The Star, I was the statistics editor which meant I was responsible primarily for the data page(s). When I took it over, it was a cluttered mess IMO. I made every single page organized, cut out widows, aligned the categories, added original content, etc. That took motivation because nobody told, nor expected, me to go that far. I unilaterally made it my mission to enhance and improve the data page(s) because anything I do will be done to the highest level or I'm not going to have anything to do with it. Of course, that commitment took more time and effort and energy. I claimed there wasn't a better data page anywhere in the United States – and I even offered $100 to anyone who could find one. Nobody ever did.
Considering the volume of work I provided and the quality level of that work, I don't know of anytime I was ever at risk for losing my job. My performance ratings were always good. But, over time, the job(s) got harder and harder and harder. Why? Simple… nine layoffs.
The amount of work I (alone) was responsible for just kept increasing and increasing. I could only work 70 hours a week for so long before I just couldn't take another second of it… literally. My last second was February 6th around 11:55 PM. I wrote my final article on UFR that night.
Later, after my blog post and before I left work at 6AM, I wrote a five-page letter to the sports editor outlining my concerns. The rest is more or less history. I never worked another minute for The Star and officially ended my employment with the company on Friday, February 24th after a meeting with Mike Fannin, the editor of the paper. I believe we separated on good terms. From his letter of recommendation...
..."Martin's primary role was to produce the Daily Data page, where he was a master at creating clean, organized and unique statistical information. In addition, Martin was instrumental in Upon Further Review, a Kansas City Star-produced sports blog. He served as a valuable contributor to this blog for over three years.
Martin was reliable, hard-working and conscientious, and his contributions were highly valued."
And, from the Sports Editor who followed Mike Fannin - Holly Lawton when she left The Star...
..."Thanks so much for your tremendous work ethic and your perfectionism. I've always valued your contributions, but also you as a person."
Anyway, that's exactly what happened. Every word above is 100% factual.
But, I don't want to leave you with the wrong impression. For all but the final six months – when I felt my personal situation was becoming untenable - I loved the job I had. And, I was able to conjure up the energy required to essentially do two jobs. Let's face it, any job that is about sports and stats… I mean come on. What's not to love? So, although the last (roughly) six months were increasingly more difficult and stressful, I have good memories of my years at The Star.
COOL FACTOID PART I: Let's pretend there were no pictures or ads in a newspaper and that it was 40 pages long and had been 40 pages for a 100 years. I estimate there would be roughly 9,000 words per page or 360,000 per day. In 100 years, that amounts to 36,500 days and 13.14 billion words.
COOL FACTOID PART II: On the other hand, my latest $300 home computer has a hard drive of 1TB – one terabyte. That's 1 trillion bytes (or 500 billion letters). If the average word has 6.6 letters plus a space, that means my home computer can hold 65.8 billion words.
COOL FACTOID PART III: The bottom line is my home computer (smaller than a briefcase) can hold every single word ever written in five newspapers for 100 years assuming they are 40 pages every day and no ads. And, if that doesn't explain why the newspaper industry is dying, nothing does.
THE DAILY MIRACLE
It never ceased to amaze me how every single day at The Star we would come into work late in the afternoon with nothing, and by midnight we would have this multi-colored many-paged mini-magazine. A few hours later, everyone in Kansas City that wanted it would have it at their door. Lots of stories, data, information – all of it checked and double-checked and as timely as our deadlines would allow.
The Kansas City Star sports department received many awards. I'm not sure there is another paper in the nation that got as many awards per subscriber as ours – including the coveted APSE Triple Crown award on several occasions while I was there. I thought the name of the paper should be changed to "The Daily Miracle" because honestly that's how I viewed it.
CRITICISMS AND THE FUTURE OF NEWSPAPERS
Most of the criticism of The Star sports department was unjustified IMO – at least as it pertains to content. People criticized the paper for being biased toward this or that university… or this or that sport. That was the most common complaint I heard. But they don't have a clue about how much effort went into trying to keep it fair and balanced. Did we make mistakes occasionally? Are we human?
Criticism of newspapers in general is a different issue, however. The industry is in major trouble as everyone on earth knows. It's hard to justify to anyone who is computer savvy why they should wait to get the news and sports a day late by going out to their driveway regardless of the weather with no ability to interact with the story and with limitations on the length and content of the story because of space issues. It's seemingly archaic in a digital world.
I honestly believe that in another 20 years, kids will be saying to their parents or grandparents... "You mean you used to have to wait until the next day to get all that information and you couldn't interact with it and you had to go out in the snow or rain and wring out a piece of paper?" It will be very similar to what some of us said to our parents or grandparents... "You mean you used to have to go outside in the middle of the night in the rain or snow just to take a pee or poop?" What's the business model for outhouses and corncobs today?
Although that's almost certainly a fair analogy IMO, I will concede that it overlooks one thing. The Star and all newspapers are becoming more and more focused upon analysis as opposed to breaking news. The Star owns KansasCity.com where breaking news takes place. KansasCity.com is specifically for many of us that get our KC time-sensitive information. The newspaper is for everyone else. And, the one thing newspapers have is quality researchers… with time - limited time yes, but more than the time granted to people on line!
Time is a marvelous thing when your mission is… objectivity and accuracy. No matter what happens to The Star in the future, I think it is fairly safe to say getting it right will never be intentionally compromised because if it is, there isn't anything else for a newspaper to hang its hat upon.
I'll never suggest to someone that reads The Star… to give it up, but Father Time is relentlessly making the argument in place of me or anyone else saying it. The problem is an aging population that has never known anything other than a newspaper is… aging. And, it's being replaced by generations of people that simply will not wait for information under any conditions – even if it means greater accuracy. Presumably, the masses figure accuracy will work itself out. If not within the first hour or two, then maybe 12-24. Clearly, that's an unfortunate by-product of a digital world. But, what are you going to do? You can't put the toothpaste back in the tube and everything is about speed and instantaneous delivery. Even Sports In Review had to buck that trend.
Unfortunately, advertisers know the demographics of newspaper readers and they also know people's prime spending ages are when they are in their 30's and 40's. That's the vertical revenue mountain newspapers have to climb, and that's why the large number of layoffs industry-wide. Nothing I (or anyone else) says or does will change the inevitable societal evolution of how information is transmitted – whatever that ultimately becomes. Newspapers and employees of newspapers are just along for the ride.
THE PEOPLE AT THE STAR
I want to take one last opportunity to express my well wishes to everyone at The Star. The editor of the paper (Mike Fannin) is absolutely first rate – a real professional – a super good guy. Opinions vary, but that's mine. Mike was the sports editor for years while I was there before he was promoted. The sports editor today is Jeff Rosen. Jeff is a great guy IMO as well. I wish both of them the best of luck.
The rest of the people that made up the sports desk were/are very talented, hard working people. Having sat among them for as long as I did, I came to appreciate what it takes to create something from nothing, to get it right 99.9% of the time, to make it aesthetically pleasing, to be even-handed, to reach out to as many disparate groups as possible… and to do it every single day. Day after day, week after week, month after month, year after year. I believe the paper hasn't missed a printing in over 100 years.