PERSONAL
-- My sister, Barbie was single and living Topeka, Kansas a few years before my death. She decided to attend a class reunion in Pawnee Rock, Kansas - where she graduated. I have never attended any class reunions and can't imagine every going back to Pawnee Rock unless I had to. In any event, she has somewhat better memories of living in the sticks than I do. There were about 25 people in her class and she re-met several she hadn't seen in 40 years.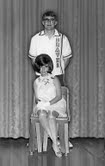 One of the people she made contact with was Phil, who was also single. She discovered that he lived near Topeka and worked in Topeka. They began a relationship and eventually got married in 2011. A year or so later, they were looking through old photographs and discovered this one. It is of the basketball King and Queen candidates their senior year in 1969.
They didn't remember being assigned to stand next to each other for the pictures, but there they were.
-- I was married to Teri when in 2001, she told me her parents asked her, her brother and her sister to come over to their house. They had something important to tell them. Of course, she had no idea what it was about. After being gone for a few hours she came home and asked me to guess what the news was. I guessed that her dad had a child by another woman... I was close.
Her dad had another child they weren't aware of alright, but it wasn't with another woman, it was with her mom! The siblings had a full sister they never knew about. As was the case for many in those days, they got pregnant when they were young and gave the child (a daughter) up for adoption. Teri's parents pretty much had no idea what happened to her over the years.
As it turns out, she lived in Chicago and had a close relationship with her adopted parents who had since died. Teri's parents and Teri's older sister made contact with each other and after several communications, she came to Overland Park, Kansas to visit the family. The visit was fantastic and from that minute on a close bond was formed. Eventually, Teri's sister moved to Overland Park and the entire family was reunited. If her sister isn't Teri's best friend today, she's right at the top.
GEOGRAPHY
By latitude, Paris, France is equal to the border between North Dakota and Canada.
Santiago Chile is almost on the Pacific Ocean. By going straight north, you would hit Boston Massachusettes on the Atlantic Ocean.
Kansas is the only state 50 miles or less than from four other states, yet does not touch any of them (Texas 33, New Mexico 50, Iowa 38, Arkansas 32).
Alaska is farther EAST than any other state.
Alaska is also farther WEST than any other state.
Part of Minnesota is north of Maine.
Part of Nebraska is north of part of Canada.
Reno, Nevada is west of Los Angeles, California.
Part of Idaho is farther west than part of San Diego, California.
Council Bluffs, Iowa is west of Topeka, Kansas.
It is farther from Texarkana, Texas to El Paso, Texas than it is from Texarkana to Chicago, Illinois OR from El Paso to Los Angeles, California.
Tijuana, Mexico is over 500 miles north of Brownsville, Texas.
The highest temperature ever recorded in Bismark, North Dakota is 114 while the highest ever recorded in Miami, Florida is only 98.
The highest temperature ever recorded in Hawaii is 100. The highest temperature ever recorded in Alaska is... 100.
ANAGRAMS
Mother-in-law = Woman Hitler
Snooze Alarms = Alas! No More Z's
Eleven plus two = Twelve plus one
Debit card = Bad credit
Christians, Muslims and the Jews = Jerusalem stands within schism
Albert Einstein: Ten elite brains 
Martin Allen Manley: Mentally Linear Man 
SPORTS
From Martin Manley's Basketball Heaven 1987-88
-- If ever there were a case of living in someone else's shadow, Joe Ruklick lived in Wilt Chamberlain's. In 1956, Ruklick's Northwestern team played against Chamberlain's Kansas team. Ruklick, a center himself, was totally outclassed by Chamberlain. Even though it was only Wilt's college debut, he scored a collegiate high 52 points.
Three years later, in 1959, as Joe Ruklick looked on, he saw the Philadelphia Warriors draft Wilt Chamberlain first. Coincidentally, Philadelphia's second pick that year was Joe Ruklick.
Ruklick was totally obscured by Chamberlain in his first two years, but never more than in his third year, 1962. As Ruklick observed from the bench, Chamberlain set an NBA record when he missed only eight minutes out of the entire season! He watched him score over 50 points many times, as Chamberlain set an NBA record by averaging 50.4 points per game. Late that same year Wilt scored 100 points in his most famous game. His last two points came inside of one minute to play on an assist by a forgotten player named Joe Ruklick. It was one of the few minutes in one of the last games Ruklick played that year, his third and final year in the NBA.
-- The great Elgin Baylor played college ball at Seattle University, the NCAA runner-up in 1958. He went on to play fourteen years in the NBA. He went to the playoffs every year and took the Lakers to the championship series eight times. He lost every one of those eight including four times by losing the seventh game. Thus, he became the runner-up leader in the NBA. No other player is even close to as many second place finishes without having won once.
That, plus the NCAA championship loss, would be bad enough, but just to add salt to his wounds, the very day he retired, November 5, 1971, his team, the Los Angeles Lakers, began a 33-game winning streak, the NBA's longest. The Lakers went on to post the highest winning percentage in NBA history that year and finally won their first championship in 18 years.
-- On October 18, 1977 - the first game of the season, the Laker's Kareem Abdul-Jabbar matched up against Milwaukee's new center Kent Benson. Benson was Milwaukee's second #1 pick in the draft. The other was, of course, Abdul-Jabbar. Early in the game, as the two battled for supremacy, Kareem punched the rookie. In doing so, he injured his hand. Jabbar was sidelined the longest period of his career (nearly two months) and fined a league record at the time.
His first game back was December 4, 1977. As if to prove his superiority, Jabbar began a streak which may never be matched. For 787 consecutive games he scored in double figures. Coincidentally, on December 4, 1987 - exactly 10 years to the day from when it began, Kareem's streak came to an end as he finished with seven points. The opponent? The Milwaukee Bucks.
HISTORICAL FACT
 

August 14, 1976

DEAR ANN LANDERS: A friend sent me something that stopped me dead in my tracks. I don't know what to make of it so I'm sending it to you for comment. Thank you very much.

How much of it was coincidence? I refer to the assassinations of Abraham Lincoln and John F. Kennedy.

Both Lincoln and Kennedy were concerned with civil rights.

Lincoln was elected President in 1860; Kennedy in 1960.

Both were slain on a Friday in the presence of their wives.

Both were shot from behind and in the head.

Their successors, both named Johnson, were Southern Democrats and both were in the Senate.

Andrew Johnson was born in 1808 and Lyndon Johnson was born in 1908.

John Wilkes booth was born in 1839 and Lee Harvey Oswald was born in 1939.

Booth and Oswald were Southerners favoring unpopular ideas.

Both Presidents' wives lost children through death while in the White House.

Lincoln's secretary, whose name was Kennedy, advised him not to go to the theater.

Kennedy's secretary, whose name was Lincoln, advised him not to go to Dallas.

John Wilkes booth shot Lincoln in a theater and ran to a warehouse.

Lee Harvey Oswald shot Kennedy from a warehouse and ran to a theater.

The names Lincoln and Kennedy contain seven letters.

The names Andrew Johnson and Lyndon Johnson each contain thirteen letters.

The names John Wilkes Booth and Lee Harvey Oswald each contain 15 letters.

Both assassins were killed before being brought to trial.

Both Johnsons were opposed for re-election by men whose names start with "G."

--- SPOOKED IN NEW JERSEY

DEAR N.J.: That makes two of us. I have no explanation to offer. Mighty strange is all I can say.



 
From "Paul Harvey's The Rest of the Story" 1977 (two stories of 81)

THE NIGHT SIN CITY DIED
It's been called the single greatest trajedy in the history of that great midwestern state.
October 8, 1871. The night the "wicked" city to the north... burned down. More than fifteen hundred people lost their lives as fiery tongues lapped at the waters of Lake Michigan.
A portrait of the northern midwest in 1871 might well have been described as a desert with gently shifting seasons. From the late winter, all through that long, torrid summer... virtually bone dry.
A light shower on September 5 kissed the parched earth like an eyedropper squeezed into a frying pan. And then... nothing. The entire state cringed helplessly under nature's blowtorch.
And the city to the north... was waiting. How odd! Lake Michigan, a fresh-water ocean, sleeping at her elbow to the east. And, the long, languid river snaking its way through the heart of the town.
Water everywhere... except where it counted. Water all around, mocking destiny. And, the unsuspecting city to the north... was waiting.
October 7, Saturday. Hotel transients talked about the weather. Railroad men, about their shipments. Theatergoers, about the play tonight.
A forgetten line from a newspaper editorial said "Unless we have rain, only God knows how soon a conflagration may sweep this town."
But, Saturday passed, and on Sunday "all hell" broke loose.
The mighty roar of the flames in the dead of the night was most terrible to hear, said those who lived to recall. A heat so intense the very earth seemed to melt like butter. Beneath the towering crimson, pale-yellow and white, men ran like ants for the river.
The bridges ablaze, some lifted their heads from watery cover to inhale pure fire. With the sky a ghostly, ghastly midnight sun, the night waned slowly.
When the devilish rhapsody of flames and screams subsided, the city was almost dead.
Some said she paid for her sins... like Sodom, more than two thousand years before. True, the Saturday night joints jam-packed with the drunken, the senseless, the incoherent, the unsuspecting... could have appeared like live bait in some moralist's metphore. But, you know the truth. Or at least, most of it.
What you may not know was the name of the city whose demise you have just relived: Peshtigo, Wisconsin.
You'd probably not heard of the Great Peshtigo Fire because of a simuiltaneous tragedy. For while fifteen hundred lost their lives in Peshtigo, publicity favored another fire on that very same night... in which three hundred died.
The other fire, in a city to the south, you know a great deal about. The Great Chicago Fire.
And, now you know THE REST OF THE STORY.
And, possibly the coolest thing I've ever read. 
FUTILITY
Best-selling books, big box office and bombshell television specials are hitting us over the head with a new club.
Fact.
The once-popular strictly fiction format is gradually yielding to history, phasing out in favor of the truth.
Example: Roots. ABC's twelve-hour, sure-fire winner. It held you... because it happened.
Here's another novel of historical signficance: Futility. That's the name of the book, Futility, and you say you've not heard of it?
You'll wonder why you haven't, when I tell you THE REST OF THE STORY.
The novel Futility is about the maiden voyage of a fabulous ocean liner, a ship far larger than any previously built labeled "unsinkable".
The vessel sets sail for New York from Southampton with a cargo of complacent passengers, strikes an iceberg en route, goes down.
And the ship was called... the Titan.
So why didn't author Morgan Robertson come right out and say it? His Titan... is obviously the Titanic.
Both liners were touted as the biggest, the grandest, the most luxurious, and foolproof.
Both struck icebergs on their maiden voyages between Southampton and New York.
Both were inadequately stocked with lifeboats, resulting in heavy casualties. And, both sank at exactly the same spot in the North Atlantic, each on a cold April night.
It would seem clear that the real-life ship Titanic is the setting for the novel Futility, so why would the author have allowed for such minor discrepencies as these?
The Titanic, the real liner, displaced sixty-six thousand tons. Robertson's vessel, the Titan, displaced seventy thousand tons.
The Titanic was eight hundred eighty-two and one half feet long; Robertson rounded off his ship to eight hundred feet in length.
Even the apparent abbreviation of the name Titanic to Titan seems hardly worth the use of literary license.
After all, both liners were triple-screw, could travel up to twenty-five knots, could carry up to three thousand people.
All of the specific similarities were there, and yet author Morgan Robertson did not call it history.
Why?
In the first place, Robertson's characters, the passengers aboard the Titan, were purely fictional. Their personal interactions, problems, fears, were examined closely, and at last the ship sank. Hence the novel's title, Futility.
But, there was another type of "futility" demonstrated in Robertson's book... a hopelessness that not even the author himself could have recognized.
For the novel that so accurately described an authentic disaster in the Atlantic, the book that charted an invisible course through the water to an appointment with death... owned up to its title beyond the wildest dreams of its readers.
For the literature that in every way seemed to recount... in reality foretold.
In 1898.
Fourteen years before the real-life Titanic set sail!